We arrived at the Sheraton where the National Stuttering Association conference was being held. It's a beautiful hotel with a really nice pool and comfy beds with a nice bounce-factor for jumping on them with one's daughter...if one were so inclined to do such a thing.
We also registered for the conference, with young women who stuttered. It was then that it occurred to me that the only person I have really heard who stutters is my daughter. I know it's why we went to the conference, but it was pretty amazing to be in the presence of so many people that were just like Little Fish.
Mrs. Fish signed us up for some cool activities, and the first night was going to a Braves game. When we got to Turner Field, the Nationals were taking batting practice, so Little Fish and I went down to the fence. While we were there, this young teen came up and started talking to us, stuttering. He explained he was at the conference from New Orleans, and had been coming for several years. I really enjoyed speaking with him, and we talked about his city, the conference and lots of other things. I admired his poise and the ease with which he spoke to me, not from a stuttering point of view, but for his confidence.
Little Fish and I live charmed lives. We both realize it, but I don't think she realizes that it's not necessarily supposed to be that way. When we are going someplace crowded, I almost invarably get a parking spot really close. When we stayed in a hotel in Philadelphia they sent a cheese and fruit platter up to the room. So imagine her diasappointment when we didn't get a ball in BP. Furthermore, one Nationals player was teasing the home crowd by tossing the balls up but not clearing the fence. Very funny.
Like any ballpark, there are activities between innings. Around the fourth inning there was a t-shirt cannon. The Braves Girls walked around and shot t-shirts into the stands...and I CAUGHT ONE! Little Fish accepted this as a gift of cosmic kharma and as simply her lot in charmed life.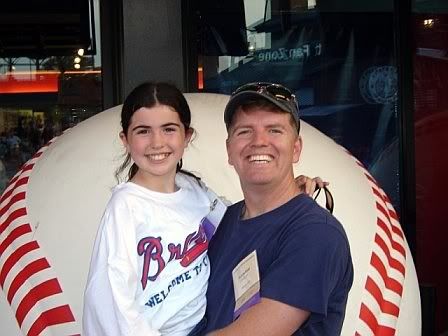 We had a great time talking to conference goers, taking in the sites at the ball park (including one of my favorites, Jonny Bravo) and just being together at the ballpark, though the hot dogs were not very good. How do you have a ballpark with bad hotdogs?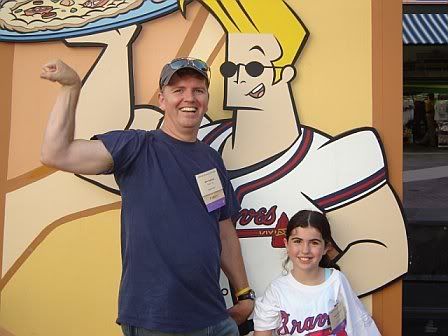 Oh yeah. The home team drubbed the Nationals 13-0. Who's laughing now?