My daughter stutters. It's a strange thing, because there is not a lot known about it, what causes it, why some people just lose the stutter, and why some have a much harder time with it. It's harder for Little Fish, I think, becasue she is the only kid in her school who stutters, adn the kids she has met who stutter are all boys. That makes a difference for a nine year old.
So when we found out the
National Stuttering Association
was having it's annual conference in Atlanta, we asked Little Fish if she wanted to go. Road Trip? Hotel stays? Swimming pools? AND girls who stutter? She pushed the chips forward and declared she was "All in."
The primary message of the NSA is this:
If you stutter, you are not alone
. It's a powwerful message because I think a lot of people who stutter think they are alone...like my kid.
Road Trip!
My family loves road trips, my daughter perhaps the most. So we loaded up the Fishmobile and headed south. Along the way we passed Blacksburg Virginia, home of the Virginia Tech Hokies, where my brother went to school. It was a little wierd, after everything that happened, and I said a prayer for the people there.
We planned a stop around halfway, which for us was Concord, North Carolina. We got to the hotel and it was completely decked out in NASCAR gear, which was donated by Hendrick Racing, one of the biggest names in the sport. I'm not a racing fan, so it was just so-so (think: meh) for me, but the hotel was very nice, spacious and comfrtable. Little Fish and I had to do the check...we have a tradition of testing the beds by jumping on them, a tradition which we have follwoed in every single hotel we have ever visited. My wife just sadly shakes her head...but she still snaps the pictures.
Little Fish and I also availed ourselves of the hottub, which was awesome. Since the crash, I find that I get stiff after about two hours in the car, so I have to get out and stretch. Seven hours in the car has greater effect, so the hottub was just what the doctor ordered. Little Fish just likes the bubbles.
We had a good night's stay, I woke up and worked out, then we went down to a HUGE complimentary breakfast spread. An observation: The service in the South is quite a bit slower, but people are so nice I don't mind spending extra time with them. Then it was time to get on the road.
One of the things I love about road trips is the strange things you see in the landscape. Towering dinosaurs, cows on the tops of buildings, huge mexicans with enormous sombreros come to mind from previous trips. This trip's highlight(?) was the Giant Peach-butt.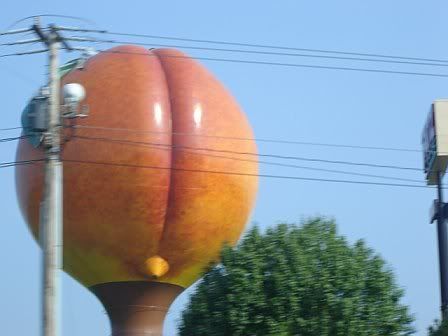 And then we finally reached the ATL, that magical land where I could say "
YES!
" when my daughter asked, "Are we there yet?"