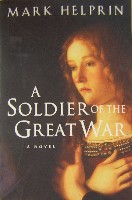 I spent a lot of time reading this book, often putting it down for extended periods. It's not that it was an excessively difficult book to read, but more that it was so incredibly dense, rich like an Italian chocolate espresso cake with buttercream icing. As such, it was also excessively beautiful, the prose of Helprin's style reading more like poetry than a story.
Alessandro Giuliani is at the end of his life, taking a trolley car to visit relatives in Italy. Through a series of events, he winds up walking with a young man who works at a local propeller manufacturer, recounting his life. He tells of his youth, in the house of his father and mother, who gave him a life of old world love. I love that he is aware, even in his youth, that he is living an idyllic and beautiful life. His family is beautfully drawn, and I am reminded of the best that family has to offer, the warmth and charm of a family painted in detailed brush strokes of golds, greens and earthy tones.
Alessandro goes to school to study aesthetics, which encourages him to see beauty in the things he experiences, the world in which he lives. Shortly after, he enlists in the Italian navy to fight in what are the beginnings of the Great War, World War I. He travels throughout the war, on a sinking ship, on a secret suicide mission, in the hell of prison facing execution, into the high mountains and even to the palaces of royalty. There are dark forces that shadow him and his comrades, and angels that flit hopefully around him, offering both protection and the briefest glimpses of beauty. The ability Alessandro has to see that beauty leaves him, though, as it is torn from his soul, as the idealism of his youth is destroyed, the friends he cherishes are lost, and the family he loves disappears.
In the end, stripped of everything, it is Alessandro's basic humanity, his insistence on continuing to look for beauty, and to see it, that moves me. The book is at once a vast and epic poem, an adventurous tale of a young man, and a love story, told with deft skill by a master storyteller.
Read this book
.