THE DAY BEFORE
Mrs. Fish and I journey down the day before to pick up my race packet. It is extremely well-organized and only takes one minute to check in. That's awesome, as I've been to these events. Some are organized better than others,
and I am glad this one is better organized. I also take a walk around the event area, spending some time with "Lance" and then return to home base: my Mother-in-Law's condominium. I lay out my transition area (T-0?) to make sure I have everything, call all of the people who were coming down, cook salmon and asparagus with a baked potato for dinner (AWESOME!) and called it a day.
The essentials: Lucky Socks, cool jersey and Assos Chamois Cream (trust me!):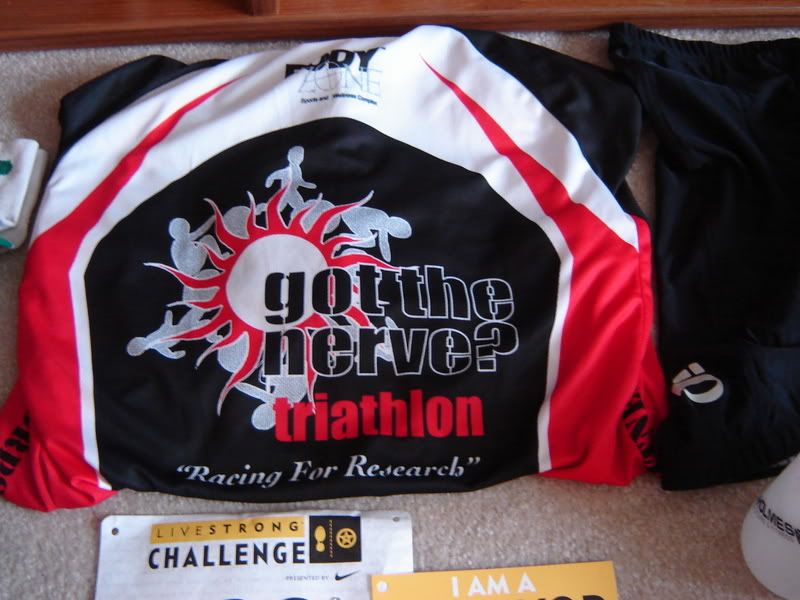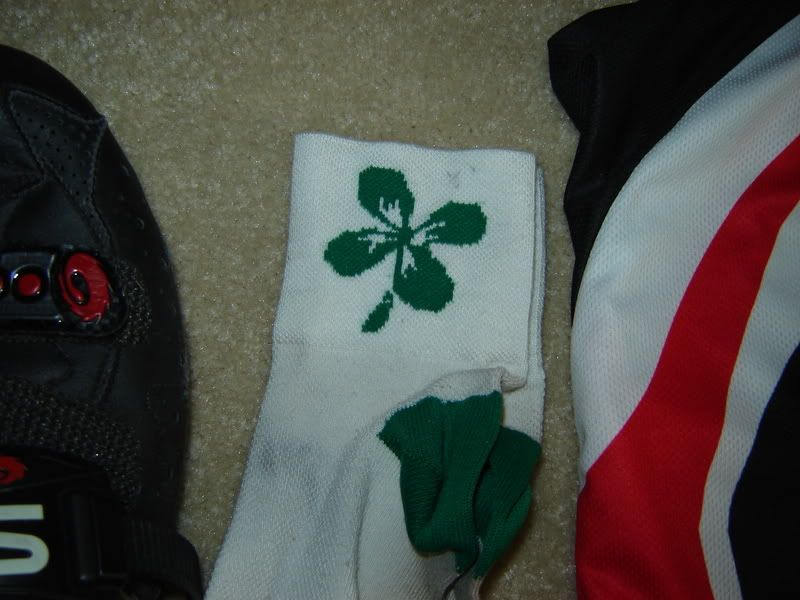 Also, my SURVIVOR card, a reminder of just how far I've come in one year...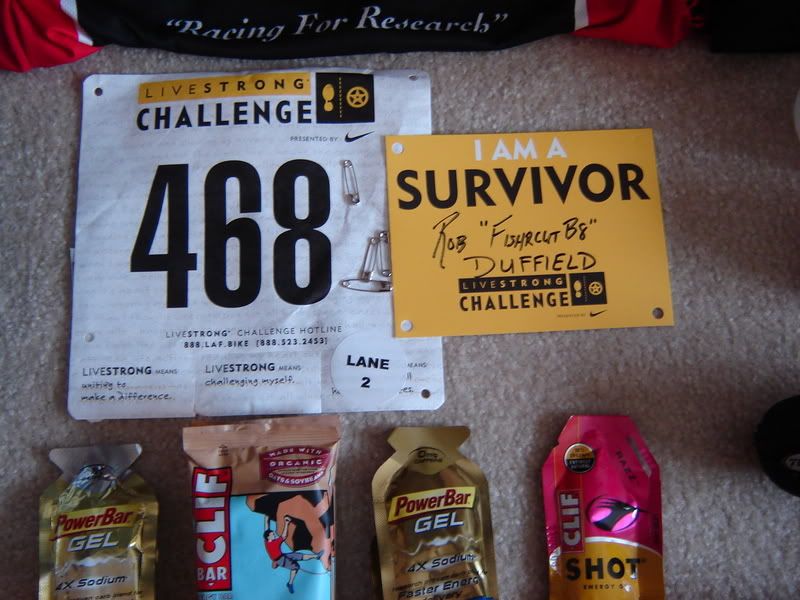 PRE-GAME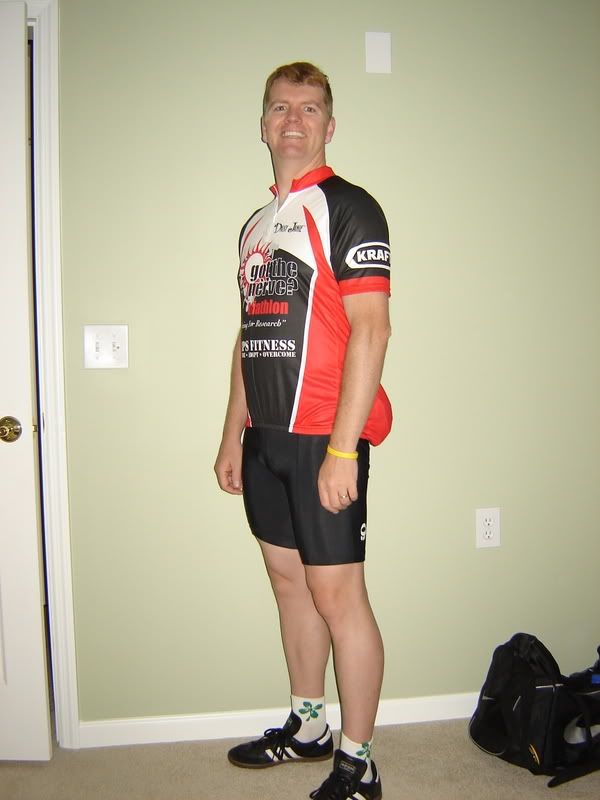 I wake up around 5.00 am and made breakfast: oatmeal, mango, peach and some turkey. I get on the road and it is still dark out, arriving at the site and it is still dark, but lightening. I put the bike tire on by my neighbor's headlights, pull my gear together and cruise over to the event area. I spend some time talking to people and pass out some of the
Butnz that Kurt had sent me
—again, they totally ROCK! People love them. Note: The "I Survived..." is from my dear friends Diane and Steve)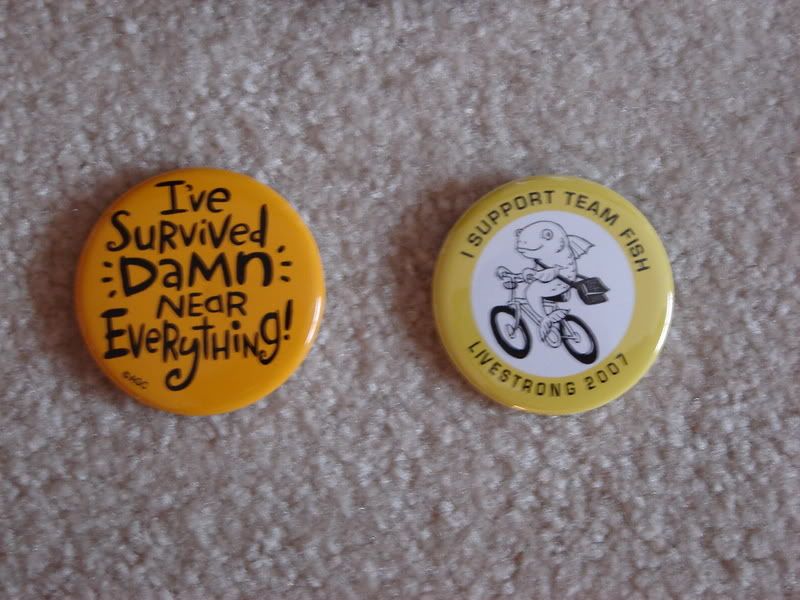 I am waiting for my brother, who is going to ride the 40 mile course, when some guy cruises up next to me and forgets to clip his foot out of his pedals. Those of you who ride know where this is going. He couldn't clip out and fell over right onto my leg. HOLY CARP! Ouch. I thought, "This is just perfect—I get prepared for this whole thing and some dude in the parking lot breaks my leg before I get on the course. OUCH!" Luckily, nothing was hurt, and he has the foresight to land on his leg and shoulder to protect the bike. Good man…everyone is fine.
Pat arrives and I decide to start my ride with the 40 mile group. It will put me at about a 25 minute deficit, but I know I can make that up easily enough. Furthermore, there is a cutoff at the 32 mile mark of 11.30, but that still gives me almost 3.5 hours to get there. In essence, I will have to average 10 miles per hour to make the cutoff and proceed onto the 100 mile course—otherwise they will redirect me at that point onto the 70 mile course. I can average 10 miles per hour backwards, so I think I will be great—no worries. Right?
Pat has two friends that hook up to do the ride, Sean who works with him, and Chris, who used to. They're very nice people, and I would have like them a lot if they had signed up with Team Fish or Cut Bait instead of Team WMMR (kidding…).
Lance gives the opening remarks, greeting the crowd, and thanks us for the work we have done to raise money to fight cancer. He also announces a Presidential forum to discuss cancer in America and what the role of the President is in helping to secure funding for the research. It's long overdue. It's funny, because Lance is not anywhere near as eloquent as I thought he would be. He seems almost shy before the group, like he doesn't know quite what to say or how to say it. It is kind of interesting…I just picture him as more polished.
THE FIRST TWENTY MILES
So Pat and I start rolling with the 40 mile group, Chris and Sean riding with us. It is a good group, chatty, ready for a good ride. About three miles out, I am chatting with Pat and I hear POP-SQUEEEEEEEE…
Yes WAI…Flat Tire! Oh carp. We pull of to the side of the road and the 10 milers are going past us. The SAG wagon pulls up to make sure we are okay and I assure them we are. I watch as Pat takes his tire off—his first time ever! He does a good job and he puts the wheel on. Off we go.
We pass a grandmother and her granddaughter and even though she is weaving a little, I tell her she is doing great. "Keep on rolling!" Another 2 miles and we're talking about Brazilian soccer and Tom Cruise watching soccer matches and how the announcers think he's a wanker and POP-SQUEEEEEEEE…
I wish I was TRIPPIN' but I'm not…Flat Tire--AGAIN! What the carp? Pat busts the wheel off and takes the tire off the rim quickly. It's a good sign – he learns quickly. Riders continue to roll past. I think we are now DFL. Dead Freakin' Last. In the ENTIRE LiveSTRONG Event. Okay. A BikeLine guy pulls up and offers to help. "YES!" Pat and I say. He mounts the tire quickly and gets us back on our way.
The entire course is supposed to have volunteers at the intersections, supported by local police or state troopers. We come up on one intersection and there is a mother and daughter riding. The daughter asks her mom, loud enough that I can hear, "Do we just go through? Do we just go through?" The mom does not reply, but I quickly look and see there is no police officer OR volunteer. "No, no, no," I think, and something of the Daddy in me comes out as I see this girl rolling against a light. "STOP!!!!!" I yell and she slams the bike and skids sideways as a car rolls through the intersection. It would surely have killed her. She is shaken, but unharmed, and we roll on.
Pat and I are picking up steam and feeling pretty good about things. We pass the grandmother and granddaughter (again) and I tell her she is still doing great. "Thanks!" she says. I show Pat how to tuck in and draft off me. Again, he learns quickly. We come to some rolling hills and rise over them, down the other side, around a corner and…POP-SQUEEEEEEEE…
Yup...Srsly and like that…Flat Tire--AGAIN! You have GOT TO BE KIDDING ME!!!! We are less than eight miles into the course and Pat has had three flats. God I love my Gatorskins…but I curse the monkeys that made his stupid tires! Again, Pat has the wheel off in a flash and strips the tire off. He looks like a Marine field stripping his M-16, now. Steve, a BikeLine SAG wagon guy stops and helps us out. I explain that we've had three flats in eight miles, and he triple checks the rim tape, tire and everything else. I show him where this one was a side blowout and he replaces Pat's tire along with the innertube. At this rate, I think Pat might be able to get a TREK Madone by the time the 40 miles are over.
We get going and rolling forward. We pass….the grandmother and granddaughter…AGAIN! "You're still doing great," I say, trying not to let the irony of my situation into my voice. "Look," she says, "it's those two hotties again!" I'm still laughing my butt off!
We get to the first help station at mile ten, stock up on innertubes (two more....EACH) and get rolling. It's a decent pace, and I realize the hills are hurting Pat a bit. I show him how to spin on the hills, using the granny gear to spin up instead of grinding it out. Again, he learns quickly and soon we're rolling along more comfortably. I look up and see a lone rider coming down on the far side of the road. There are two police motorcycles behind the rider. He draws near me and I recognize the form because it is so unique in cycling, long before the face…Lance. Too late, I realize I could have yelled, "Yo Lance! On your left!" I'm not sure it carries the same weight if he's traveling in the opposite direction, though.
Pat and I arrive at the second aid station. It is now 10.45 and I have only 45 minutes to cover nearly 12 miles of the hardest part of the course thus far. Pat is taking the 40 mile turn and he has reunited with Sean and Chris. He is debating whether or not to do the big hill, and I hope he does. It occurs to me that rides like this are, in large part, a way to find out what lies inside of us. Pat isn't sure he could finish the 40, especially with the hill at mile 20, but I suspect he can. He has a lot of grit, and when he puts his mind to something, he's unstoppable. Again, I hope he goes for it, but I realize if I am going to make the cut off, I am going to have to go all out (bust a nut?) to make it. I do the math and realize I am going to need to average 16 miles per hour over the hills. I grit my teeth and roll out.