Team Fish is once again building. My brother joined
Team Fish or Cut Bait
today, marking the official beginning of the cancer ass-kicking season. The
LiveSTRONG Challenge
is in Philadelphia on August 23rd, an opportunity to raise money to fight cancer by riding a bicycle 10, 40, 70 or 100 miles. You can also run or walk the 5K.
There are several ways you can join Team Fish as we fight cancer. First, you can get on your bike and ride with us! You can go to the Team Fish or Cut Bait Homepage and join our team. Last year, my brother Pat, cousin Michael and friend Kurt joined Team Fish. I would love to see even MORE people come out this year. Think about it: You can ride 10 miles and raise $250.00, right? (Note: the $250 was VERY daunting the first time I did it...I raised it in a week. All of the people who have ridden with me have said the same thing. Don't let that be what stops you if you're thinking about it.)
Second, you can give to the LAF in support of my ride. Last year we raised more than $5,000. Go to
Teh Fundraising Lownje of Fish
and make a pledge. Furthermore, I am all-in for Challenge Giving! Last year, we had a chance to Shave the Wookie! That's right, yours truly shaved his legs at the $1,000 threshold.
Then, I shaved the head at $2,000...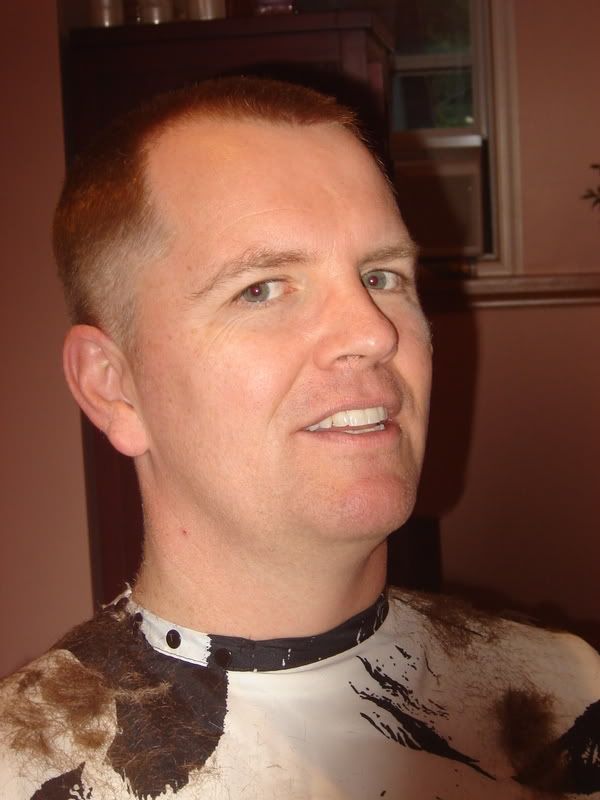 Rest assured, if you have a recipe for insanity, or just an itch you need to scratch, and want to offer me a challenge, the negotiations can begin (just ask Bill Moore and his buddy Pat and friends...).
Last, inspiration comes in many, many forms. I do not speak lightly of TEAM FISH. It is a TEAM. And that means so much more than simply the riders who are out there with me. It is the people who support us in this endeavor. Many of you have given money for the event, and as a cancer survivor who has benefited from that (testicular cancer was a death sentence thirty years ago. Now, it's 95% curable if they get it early), I assure you, no amount is too small. What REALLY matters to me is the PEOPLE for whom I am riding: you, your friends, your loved ones, your sons and daughters, the living and the saints. It is the spirit of TEAM FISH to bring everyone with us, in body, mind and spirit.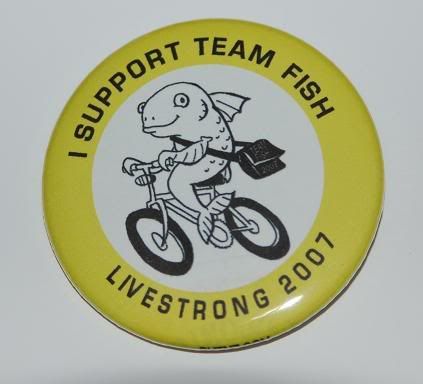 Some of you have given your time, helping me get prepared both physically and mentally (Mrs Fish and Little Fish have been especially helpful here). Others used their unique talents or skills too add something special to the ride, like
Kurt and his BUTNZ
! I share them on the ride with fellow riders and survivors and they never fail to bring a smile...as a matter of fact, I had people remember me from the first year as "The Buttton Guy".
Or, maybe you have mad photoshop skills...
By far the greatest inspiration I receive are the stories. So often, people will make a donation to my page in honor or memory of someone and e-mail me to tell me just why that person is so special. I would be continually honored if you have someone you want me to ride for and you want to share them with me.
And so there you have it, and there it is. It's open season on cancer, and I'm going hunting. Who's with me?