Getting There
I woke up at 5 am without the alarm...it was a function of having a two glasses of wine with dinner (I don't think I'll do that again, though...) and going to bed early the night before (around ten o'clock). I had laid out my transition area, so I knew how everything should look and that I had everything. I stopped for a coffee on the way out at Tom's convenience store. I was going to stop at McDonald's, but thought there was more windows at the Tom's so I could see my bike while inside (drive-through at McD's was crowded and I thought it would be a good time to use the facilities quickly as well). Well the bathroom was great, but the coffee tasted like burned monkey butt. Today's thought: Plan your race, race your plan. If you plan on the known quantity of McDonald's coffee, go with that. It's a small thing, butt still, monkey-butt coffee is not the way to start race day.
Pre-Race
It was a clear, warm early Summer day. I arrived at the site about 6.40 and off loaded my gear and bike. I walked down to the race area and was surprised by how crowded it was. That being said, it was also very well organized, with all of the volunteers knowing exactly how things should go, where people should be, and how to run things most efficiently. This race is organized by Chris Kaag, a retired US Marine, and his background shows in the way this event is run: Ship-top-shape all the way.
I work with a woman whose husband did a marathon last year. He got himself roped into when a friend of his said, "Why don't you come down and watch me?" So I was talking to Kurt about Got the Nerve and I said, "Why don't you come out and watch me." Game on. he e-mailed me back that he registered. Coolness. I was wondering, given how crowded it was, how the heck I was going to find him. I racked my bike, went to buy a race belt and walked back...and there was Kurt, standing at my rack, which also turned out to be his rack. Six-hundred competitors and his bike was racked 7 down from mine. Weird...but cool. So we talked about plans, and the race--I could tell he was stoked, a little nervous about the swim, but ready to go. I remembered the enthusiasm, anticipation and nervousness of my first race. I could have dispelled some of that for him, and debated it for a bit, then decided to let him be a little anxious--it's good for you. It keeps you sharp, and he was ready.
We gathered for the race instructions, but they were pretty much impossible to hear, like the teachers in Charlie Brown. "Wamp, wamp-wamp, wammmmmp." Yes, we'll swim and not drown. "Wamp wammp?" And bike safely. "Wamp-wamp, waaaaammmmmmp." And run until our legs fall off. As loud as it was for the pre-race discussion, when the Star-Spangled Banner was sung, the whole area fell into a hush so deep you'd swear you were in a Midwestern meadow with only the woman singing. It was beautifully done.
Then it was time to move off to the swim area, and like the gladiators of Rome we filed off single file through the cheering crowd to our arena: Mt. Gretna Lake.
The Swim
I braced myself for the water temperature, waded in and....it was WARM? What the...? I jumped in and swam out. It was still warm. Did I have a shot of brandy before starting? I didn't think so. So the water was actually warm, one guy said 74 degrees. Oh sweet mercy, this was the best news yet!
I had heard the swim was 500 yards, not 400 like previous years. That meant one of two things: either they had lengthened the swim, or they had mismeasured how far it was and now were making it right on the official card. It was, of course, the former. Also, it was in reverse direction this year. Oddly, neither of these developments fazed me. Kurt thought it was pretty funny, but I explained it was the Lance Effect. "Their just trying to Rob-Proof the course, make it harder so I don't win. You know, like an individual time-trial up Alpe d'Huez. They lengthen the swim because it's my hardest event."
After jumping in, I actually thought about going without my wetsuit. It's a Body Glove shortie (short-sleeved, short legged) and it restricts my arms a little at the top of the stroke, increasing my fatigue on the swim. Then I remembered: plan your race, race your plan. I left it on. I swam a bit to get the motion and felt REALLY confident and good: strong and smooth through the stroke. This was unusual, as I only had one day a week to practice, but I tried to make the most of those, focusing on form more than speed or power.
It was time for our heat to go, and we waded into the water. I put myself in the middle of the pack, a sign of how confident I was feeling, and the countdown began. The horn sounded and WE WERE OFF! The course was an inverted triangle, and I planned to go out easy to the first buoy, go up a notch on the top of the triangle and then see what I had left at the end. I started off nice and easy, but found myself staying with the pack. Was I going out too fast? I didn't think so. I just felt natural. Stroke, stroke, breathe. Stroke, stroke, breathe. I remember thinking to keep my chin down which leveled my body in the water, and also to use the entire stroke, and not waste anything (thanks Steve!). Stroke, stroke, breathe.
It occurred to me that I could learn to breathe bilaterally and do even better. I wasn't going to do it this time (plan your race, race your plan) but I have set it as a goal. I could get a more efficient and lengthy stroke between breaths. Next time! Until then: Stroke, stroke, breathe.
I turned around the first buoy and begin to swim across the top of the triangle. Then, I do the impossible. I begin to PASS people from the PREVIOUS HEAT (they started with a 3 minute head start)! I'm still freestyling and waiting for the fatigue to catch up, to kick in, to slow me down. Stroke, stroke, breathe. It doesn't come as I head for the last turn, where I will make my way back to the beach. Stroke, stroke, breathe. The bulk of my pack has pulled away from me, then I catch people from TWO HEATS ahead of me--they had a SIX-MINUTE head start! I am lean in the water, slippery, like a fish.
As I head for home, I still wonder where the fatigue is. It occurs to me that I will not falter. I will freestyle the entire 500 yards, finishing as a swimmer. Finally, I look down and see the bottom. I "site" the buoy and realize I have have 50 yards to go. I finish the swim, feeling like I could have done another 500 yards...easily. It is an INCREDIBLE feeling. I now realize I can be a strong swimmer, with work and practice.
I feel better about this swim than any I have had in my life. Ever.
Goal: 15.00
Actual: 13.04
Overall: 342/600
Age Group:40/53
Transition 1
I walked/ran to my bike. In the future, I will run faster, recognizing I have the ability to rest while I get my shoes, helmet, and glasses on. I eschewed (yes Eric, Good Word: +1 from Dr. Robert Johnson) socks and was glad I did--much quicker and no less comfortable. The run out for the bike was on the opposite end of where I was racked with my bike. They had assigned rack places this year and I drew the short straw. Whatever. I geared up quickly and got going.
It was then I heard my daughter yelling, "GO DADDY!" and my wife cheering for me. It's actually kind of cool to be able to pick out Mrs. Fish's voice, my daughter's. It's also amazingly uplifting. My mom and dad came in from Jersey to see the race and I heard my dad, and my mother's Irish brogue above the crowd screaming for me. It was amazing. I hopped on the bike and went.
Goal: 1.45
Actual: 2.00
Overall: 152/600
Age Group: 17/53
The Bike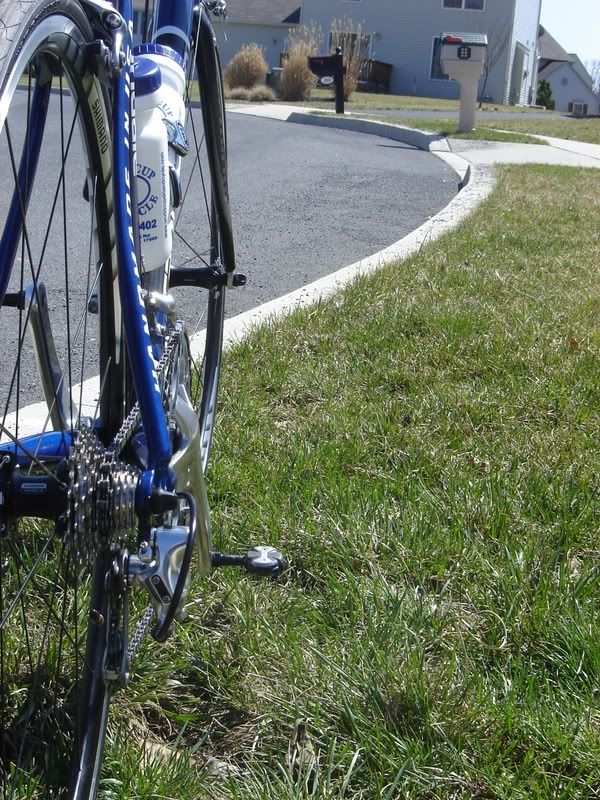 The
bike course
offers a quarter mile downhill respite before Pinch Road. Pinch road offers and steep climb of more than 350 feet right after the swim. It is most decidedly not for the faint of heart. I was worried about this because with my new bike, I had a double chain ring in the front, instead of a triple which makes climbing hill a lot easier.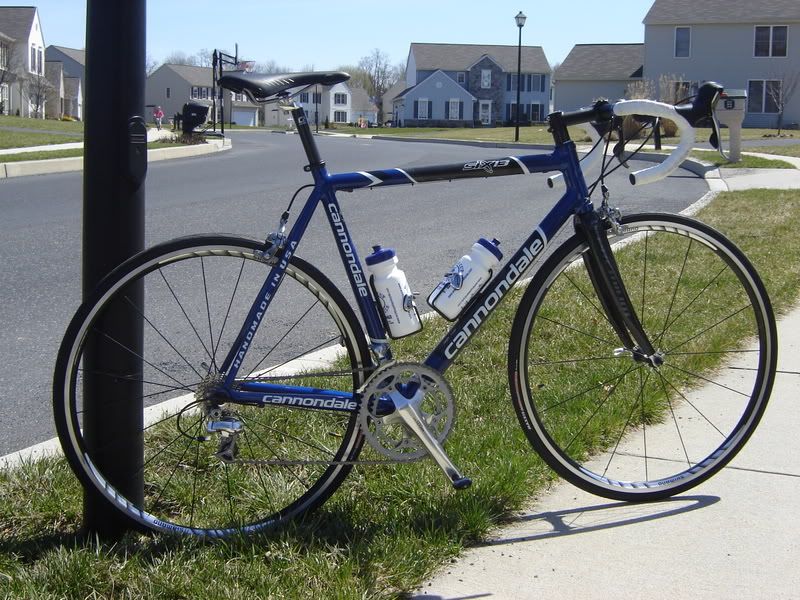 I was prepared to go to lactate threshold, a period identified by the buildup of lactate, most notably in the legs. The primary symptom of reaching LT is an intense burning like the brands of hell being applied directly to one's thighs. I was NOT looking forward to this, but had accepted it as my lot. I got up a good head of steam and hit the hill.
I started up, realizing that there is a flat spot about half way up, where you can catch your breath for about 15 feet. I hit it hard and my legs started to burn. I ground it out and reached the flat spot, feeling good about where I was. Then I attacked the last part of the hill, rising out of the saddle to adjust my position once, then settling in to the grind and the burn. It felt good. Bad. But good. If you ride, or work hard in anything you do, you know what I mean. if not, I could never even attempt to explain it.
I BOMBED THE BACK HALF OF THE HILL!!! I was flying...a later computer readout confirmed 51.8 miles per hour. The back of the ride was a blur. I passed and was passed. My legs felt dead on the ride, though. I knew I was in trouble. I couldn't seem to wake them up. It was so frustrating, because I knew I could be riding stronger than this. In hindsight, I would have spun as part of my pre-race routine. NEXT TIME! I needed to do something to make up time and ground.
I couldn't ride stronger, so I had to ride smarter. I developed a strategy of stalking riders on the rolling hills. I made up my mind to pass them on the downhill. Then I would attack a bit on the uphill, to separate myself further in an attempt to frustrate and demoralize them. It worked. I'm not patenting it, but I surely am remembering it. I was still lamenting my dead legs, though, this act of will notwithstanding.
At the end of the bike course are two hills, the first a sharp 200 foot climb, the second a long, slow climb of 150 feet over two miles. I realized I could make some ground on the competition by passing them on the hills. I hit the first hill and felt something. A zing. something in my legs came alive. It was GO TIME, BABY. I hit the hill like Lazarus, risen from the dead. I passed A LOT of riders on that hill, bombed the back side (40 and change), then got ready for the next steady climb.
There was electricity in my legs now. I looked to the right and saw a sign, nailed to a tree.
ALL THINGS ARE POSSIBLE
it read. Inspirational to the average reader, but I knew the rest. Matthew 19.26: With God, all things are possible. I looked ahead and saw riders. I knew I was going to catch them--my stroke was clean, driving, lifting, circling in a clean, pure motion. I had found it. ALL THINGS ARE POSSIBLE. I passed a lot of riders on that hill. At one point I looked down and was doing 20 miles per hour. Solo. Uphill! I hit the last part of the downhill, then cruised into the transition area.
I can only wonder what my time would have been had my legs felt as good at the beginning as they did at the end.
Goal: 53.00
Actual: 49.40...18.1 miles per hour
Overall: 179/600
Age Group: 35/53
Transition 2
I had to dismount at the front of the area, then run all the way to the back in my cycling shoes. Totally
teh suxxor
, but still, it was what it was. Racked my bike, dropped down, shoes off, runners on, spritz the head with water and I was off.
Goal: 1.30
Actual: 1.25
Overall: 327/600
Age Group: 39/53
The Run
Linguine legs...only, not as bad as last year. The couple of bricks I did, I focused on fighting this off. I started off with the wobblies, but (TRAINING!!!) got my legs under me quickly. I made the exit from the T2 area and saw Nate from World Cup Ski and Cycle coming in. He had the strength to encourage me, and told me that I was almost done. In one sense, he was right, in another, soooo wrong. I was just getting started on the run, and it was HOT out.
There were the typical runners, and I knew they would pass me. They did. I was passed by a guy with a 44 (age) on his calf, and then a guy with a 39 on his calf. I determined to push a little and run with them, even though I knew I was running downhill the first half of the run. It's a tough course because it's an out and back rail trail; the first thirty steps in the trail portion look the same as every other step in the run, which made it hard to gauge just where I was.
I also knew Kurt, with his marathon background, was lurking back there somewhere. Shortly after I made the turn, Kurt was there. I wasn't hurting as bad as I thought I would be. I picked it up a little to stave him off a bit. It was just a matter of time, but I wanted to make him earn it. I saw a bright spot on the course, and I knew it was the opening that meant I was approaching the home stretch. Kurt still hadn't caught me.
I hit the tarmac, and I heard a voice behind me. "Rob. Triathlete." I knew it was Kurt. He passed me with about 600 yards to go. I ran on. I wanted to finish strong, finish well. I could see Kurt up ahead. Then, he did something inexplicable. He slowed down. I picked it up and ran up next to him. "Finish strong, brother," I said...as I passed him. He had a choice. Finish strong and work to pass me back, or quit and know that I beat him. He kicked it back and passed me. I didn't have enough in the tank to pass him again, but I'm glad I made him work. Well done, Kurt (DAMN YOU!!!).
As I was coming in to the last 400 yards, there were three guys. Two were in my age group, and the third was 28. "I can do this", I thought. I sprinted past the first guy, then the 28 year-old then the last guy, clearing them out at the end. I heard my daughter yell for her "DADDY!!!" as I finished. There is NOT a sweeter sound in the whole world.
By age group, my best event was the run. Huge ups to to my friend Scout who gave me the confidence that I could be a good runner. Now, I want to be a STRONG runner!
Goal: 29.59
Actual: 27.39...8.55/mile (Yeah Scout!!!!)
Overall: 241/600
Age Group: 32/53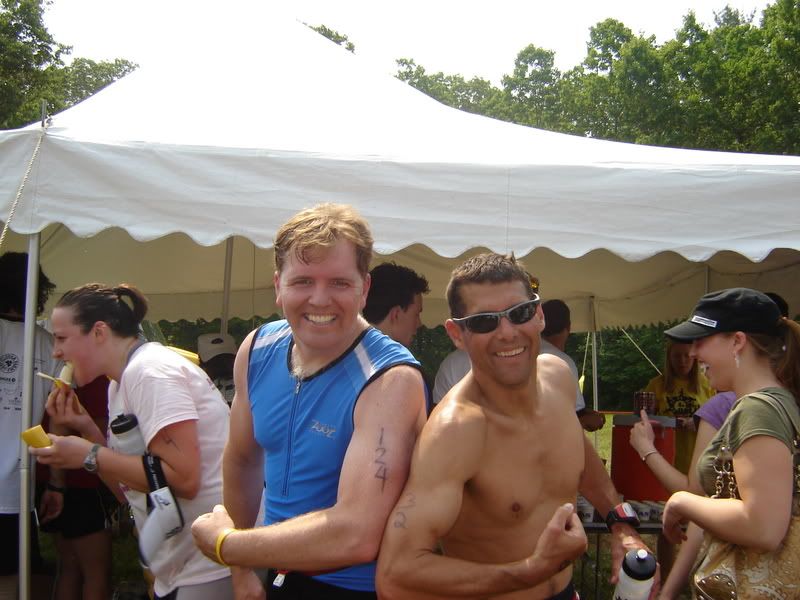 Me, on the left, with my new nemesis, Kurt.
Totals
Goal: 1.41.13
Actual: 1.33.48
Overall: 213/600
Age Group: 35/53

Reflections
This was my first race since being diagnosed with cancer (ironically, it occurred to me, somewhere on the course, that I was probably competing last year with full-blown testicular cancer...kind of crazy). It was my first race since getting run over in my hit and run by a pickup truck. It was my first real training-based raced, where I had prepared for my race by focusing my training. I have work to do, but I have done a lot of training, and worked through things that have debilitated or destroyed others.
All Things are Possible.
I want to do a longer race--Olympic distance. Next year, I'd like to do a Half IronMan. Two years from now, a full IronMan. I think I am building the foundation to do this.
What Would I Do Differently?
Not have two glasses of wine the night before competition.
Spin on my bike before the race.
Team Fish
I couldn't do this without my support team. First and foremost, a HUGE thanks to Mrs. Fish, who puts up with the alarm clock going off at 5.30 in the morning. And my late night runs. And my cycling. And my really strange eating habits. And who bought me the coolest bike jersey in my collection. I love you.
Big Thanks go to Little Fish, who is always encouraging, always smiling, and always out there screaming for her "Daddy!!!"
This year, I also have to thank Mom and Dad for coming up to cheer me on. It really meant a lot to have them here with me.
And thanks to all of you who have encouraged me, kicked me in the butt or just gave me a mad shout. My friends, family, church, work buddies and the BT and JP families.
It means the world to me.