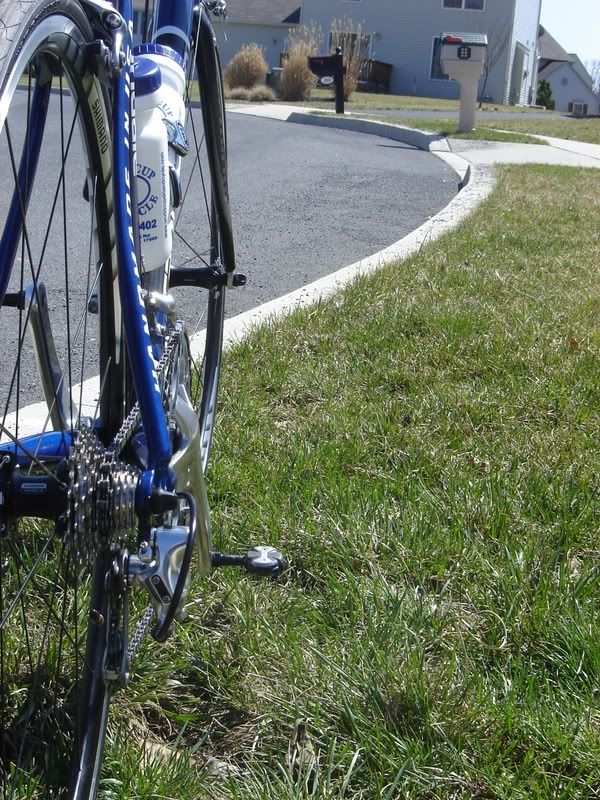 It was a beautiful spring evening, the kind that makes you glad you're alive, and that you own a bicycle. I snapped my helmet on(!!!) and clipped into the pedals. I took a quick spin up to talk to my daughter, who was playing with her friends on the swingset up the road. Then I turned around, hit my watch, and started pedaling.
It amazes me how well this bike responds. The transfer of power from thought to legs to pedals to bicyle is near-instantaneous. I rode down to the bottom of the street and hung a right turn, up the hill my daughter had successfully climbed several days earlier for the very first time. I switched into a lower gear and just rose up the hill. I was huffing a little at the top, (and I know this is a cliche') but this bike climbs like a...
I made the left, then the two rights that take me down by the local
supermarket (Quality. Selection. Savings. Every Day.).
This is a flat stretch and the road just unwound in front of me. Cars passed me, giving me a wide berth; I have to admit I was pretty nervous, being out there for the first time since
the hit and run
. I spent a lot of time looking over my shoulder. There are some pretty bumpy stretches through there, but the bike just glided over them.
I came upon some road debris as I went down past the Highmark building; the Cannondale went everywhere I wanted it to go. As I hit the rolling hills, followed by a long climb to Holy Spirit Hospital (where I said a silent thanks to the doctors, nurses and king's horses and king's men who put me back together again) the bike just kept rising. Again, I realized how out of cycling shape I am, but the bike was way more than my equal. I was almost ashamed at how much I was holding it back.
I made the turn and went down some back roads into Lemoyne, then back into Camp Hill, made the loop on 21st Street, back past the hospital and headed for home. This gave me the opportunity to test the descending capabilities down some of these hills. It was like gliding on a razor blade. Everywhere I wanted to go, the bike just went. It's much "twitchier" than my old bike though not in a bad way. Perhaps "responsive" would be a better way to describe it. My turns were so much tighter on the C-dale.
I cruised into the driveway as the sun was dipping below the horizon. It was a twelve mile ride, over some fairly hilly terrain, that I (in spite of my out of cycling-shape self) managed to cover in 46 minutes. I was a little more than surprised when I calculated out a 15.7 mph average. It's not going to win me any races, but for where I was, I was more than just a little pleased.
I REALLY liked my old bike: Fievel was a steel Raleigh Professional with Shimano Ultegra compnents and he was smooth and sure as the day is long. But the Cannondale (as yet unnamed) is more than his equal in every category except components. The Raleigh was Ultegra, this is 105: the shifting isn't quite as crisp and exacting in the C-dale. The Cannondale climbs amazingly well with no shaking, torsion or waste of movement/power. It descends just as well, equally comfortable with wide sweeping arcs or quick adjustments to avoid
junk on the road
. The bike is stiff where you want it, with absolutely nothing lost in the translation of power to the pedals. This was especially true when I got up out of the saddle to make a light. In the saddle, the carbon fiber took over, evening out the road and giving me just enough feedback to let me know what was going on in the road (this is where the Look 555 lost me), but not so much that I felt like I had to pull over and readjust the fillings in my teeth (the Orbea Onix I tested made me feel like that).
So, all of that to say
I LOVE MY CANNONDALE!
Now, if I could shake this nagging groin injury, I would be really stoked to be back up in the saddle again....
cold weather and all
.