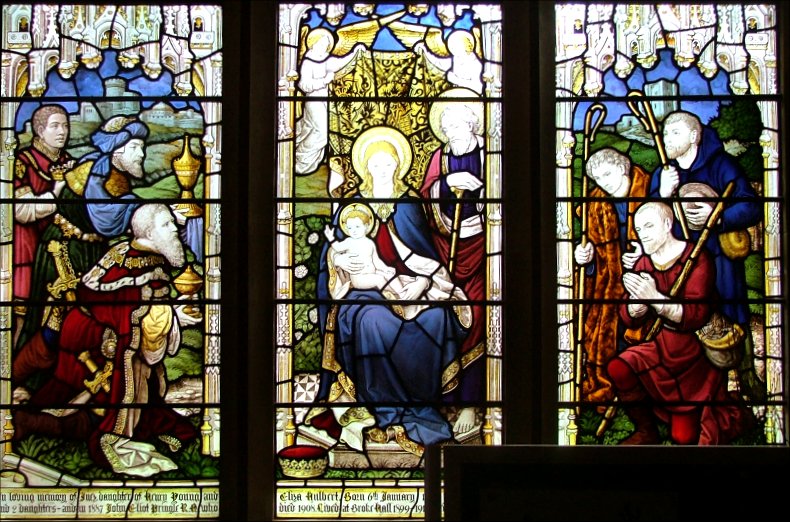 In those days Caesar Augustus issued a decree that a census should be taken of the entire Roman world. (This was the first census that took place while Quirinius was governor of Syria.) And everyone went to his own town to register.

So Joseph also went up from the town of Nazareth in Galilee to Judea, to Bethlehem the town of David, because he belonged to the house and line of David. He went there to register with Mary, who was pledged to be married to him and was expecting a child. While they were there, the time came for the baby to be born, and she gave birth to her firstborn, a son. She wrapped him in cloths and placed him in a manger, because there was no room for them in the inn.

And there were shepherds living out in the fields nearby, keeping watch over their flocks at night. An angel of the Lord appeared to them, and the glory of the Lord shone around them, and they were terrified. But the angel said to them, "Do not be afraid. I bring you good news of great joy that will be for all the people. Today in the town of David a Savior has been born to you; he is Christ[a] the Lord. This will be a sign to you: You will find a baby wrapped in cloths and lying in a manger."

Suddenly a great company of the heavenly host appeared with the angel, praising God and saying, "Glory to God in the highest, and on earth peace to men on whom his favor rests."

When the angels had left them and gone into heaven, the shepherds said to one another, "Let's go to Bethlehem and see this thing that has happened, which the Lord has told us about."

So they hurried off and found Mary and Joseph, and the baby, who was lying in the manger. When they had seen him, they spread the word concerning what had been told them about this child, and all who heard it were amazed at what the shepherds said to them. But Mary treasured up all these things and pondered them in her heart.

The shepherds returned, glorifying and praising God for all the things they had heard and seen, which were just as they had been told.
So I got to wondering why God appeared to the shepherds? I mean, you have all these other cats running around who were imminently more qualified to receive the news that God was on Earth, right? Why not some king, who could tell everyone right away that the Messiah was here and it was go time? For that matter, what about the inn keeper? It his casa where the baby Jesus is born, so he's got right of first refusal, no? And then you have the local religious leaders, who could sway the people and let them know. Heck, you have entire cities of people going home to get "censusized"--why not them? Then they could go back to their home towns and tell EVERYONE!
Then I started thinking. The kings were powerful and influential people, but they were much too busy, and probably too focused on themselves to think about God. I mean, come on, they have kingdom's to rule...surely someone else can think about babies and that stuff...
In the same way, the inn-keeper was probably too busy. This guy has customers to take care of, he's got meals to fix, rooms to get ready, bills to total...it's a wonder he had time to say, "NO ROOM!" Let's face it: Christmas can be a busy time.
The religious leaders would have never understood a baby as the Messiah. They thought he was going to be a King, riding out of the sun like Jack Jack Bauer on a nuclear Apocalypse to sweep away the Romans and anyone else who bugged them. There is no way they would have accepted a stinky baby in a water trough. Thirty years and countless miracles later, they still didn't get it. Sometimes, Christmas is misunderstood.
So what about all of those townspeople. They had parties to go to, dinners to enjoy and gifts to open. They saw this time as a giant celebration, and were not looking for a baby in a manger.
So, I think God's angels appeared before the shepherds because, unlike everyone else in the entire town of Bethlehem, they were watching, waiting, and ready and willing to respond.
It seems to me a lot of people missed the miracle of seeing the Christ child because they were too focused on themselves, too busy, too sure they know who the Messiah is and what He would be like, or too busy going to parties and dinners and opening gifts.
When I looked closer, I saw the shepherds did exactly what God wanted them to do, which was spread the good news that Jesus was born. There are people who believe that the Old French word,
Nouvelle
is translated into English as
Good News
. Over 400 years ago, someone wrote a song about the very first
Good News
, when the angels came to earth and declared to a bunch of lowly shepherds that God's son was among us. Except, we don't call it
Nouvelle
anymore. We remember it as the First Noel, the
FIRST GOOD NEWS
.
The First Noel, the Angels did say
Was to certain poor shepherds in fields as they lay
In fields where they lay keeping their sheep
On a cold winter's night that was so deep.